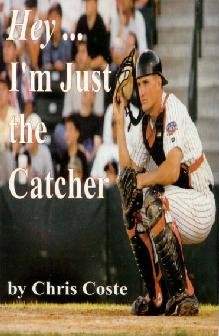 by Chris Coste
Webmaster's review
Fargo native Chris writes his own story leading up to and through this inaugural season of the Fargo-Moorhead RedHawks. It's a personal journey discussing how he came to be a ballplayer and clearly written by Chris alone. Unlike most baseball books, this one has no swearing and would be appropriate for young athletes who want to know what it's really like to follow your sports dream.
Since Chris finally made it to the show, his second (follow-up?) book The 33-Year-Old Rookie is in many ways a more enjoyable book covering even more of what it takes to make it in professional sports --all the way up to the majors.
Paperback: Jan Plaude Creations (Fargo) 1997

Originally sold exclusively in Fargo. Will be reprinted and available from Chris Coste
For more information on getting this book go to chriscoste.com
For other references to the Northern League in books and magazines, visit The Northern League Chronicles reading list.
If you know of books not shown here, please .