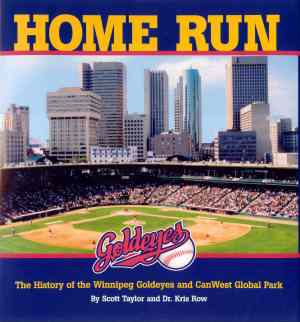 The History of the Winnipeg Goldeyes and CanWest Global Park
by Scott Taylor and Dr. Kris Row
Webmaster's review
This book is several great books in one.
It's a coffee book with great pictures of the Goldeyes, CanWest Park and baseball in Manitoba. It's a history book covering the story of not only the current Goldeyes and their ballpark, but the history of baseball in Manitoba. It has the interesting story of how Sam Katz brought baseball to Winnipeg and, against the odds, got a great stadium built as their home. It's also a "yearbook" with summaries of the first 12 the team's seasons and complete team stats.
This is a must for all Goldeyes fans. It also may be of interest to others who don't live in the 'Peg. Scott lovingly tells the all the stories above in an enjoyable style. It also tells some great stories about baseball and Winnipeg from the late 1800's to today. It has a hero (Sam) and several villains. Though the text is not very long, it's quite enjoyable.
Large Format Hardcover: Studio Publication Inc., 2005, 144 pages

ISBN: 0-9736230-1-2
For other references to the Northern League in books and magazines, visit The Northern League Chronicles reading list.
If you know of books not shown here, please .