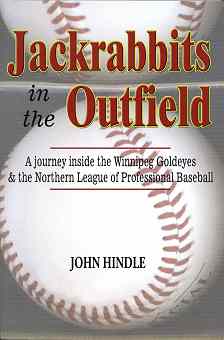 by John Hindle
Webmaster's review
John Hindle provides a different perspective on the Northern League and professional baseball in what has to be one of the few (the only?) book written by a "rookie general manager." Though he ran a baseball supply business, he learned a lot during the early days of the league and especially the very start of the Goldeyes themselves. The book is full of stories, anecdotes and background on what it takes to run a baseball club. He does this in balanced way but still does share some interesting observations about what goes on behind the scenes in the front office.
For Goldeyes fans this is a must read since he shares numerous stories about favorite players. For Northern League fans this is also reccommended since John didn't work only in Winnipeg (he managed the Sioux Falls Canaries for one season in 2004). And though he hasn't run a ball club since 2004, he does include a chapter about the 2005 league split with the AA teams.
For to order online, sample content, read the blog from the author, visit John Hindle's own book site : jackrabbitsintheoutfield.com. The book is also on sale in many book stores around Winnipeg, Manitoba and some locations in Canada.

Self Published (Hignell Book Printing), 2006, 278 pages, Price C$20.00

ISBN-978-0-9739827-1-8
For other references to the Northern League in books and magazines, visit The Northern League Chronicles reading list.
If you know of books not shown here, please .