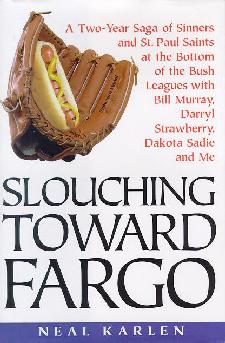 A Two Year Saga of Sinners and St. Paul Saints at the Bottom of the Bush Leagues with Bill Murray, Darryl Strawberry, Dakota Sadie and Me
by Neal Karlen
Webmaster's review
Journalist Neal Karlen followed the Saints and the league for during '96 and '97. Neal presents a excellent, honest and intimate true story of redemption..
Redemption of a blackballed major league ballplayer
Redemption of the blackballed manager who that player his "last chance" to make it back to "the bigs"
The celebrity "outsider" who gave that manager his chance to make it back into baseball
Redemption of the reporter, assigned to write a "hatchet job" on the celebrity (and ballplayer) --who ultimately finds a way to turn down his own "last chance" to make it back to the "Big Apple"
All against the backdrop of another season with the St. Paul Saints. More than "just another baseball book."
This web's map appears in the book. Check out the Slouching Toward Forward Scrapbook on this site or learn more about Neal on own site: nealkarlen.com.
Hardcover: $23, Spike / Avon Press, 352 pages, 1998

ISBN: 0380974843

Paperback, 2nd Ed.: $14, Spike / Avon Press, 355 pages, 1998

ISBN: 0380972153
For other references to the Northern League in books and magazines, visit The Northern League Chronicles reading list.
If you know of books not shown here, please .