A Tale of TWO "Dreams of Field"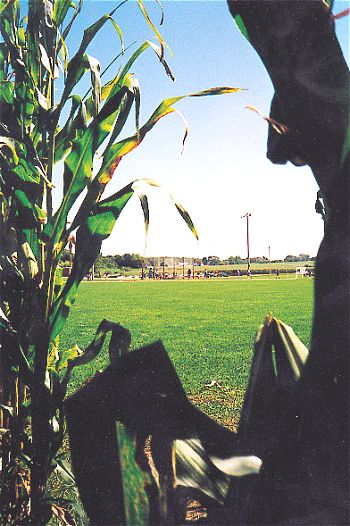 View of home plate from the corn -- Sorry, it doesn't really "tickle."
The "Field of Dreams" is actually part of two cornfields owned by separate families and part of a minor feud that continues to this day. Right field and home plate, as well as the house featured in the movie are owned by one family. Left and center field are (were) owned by a different family.
For the purpose of filming both agreed to "movie magic" with fences, power lines and other signs of the division removed. After the movie wrapped, the owners of "Left and Center" returned their portion to crops and the power lines restored. "Home and Right" wanted to keep the field a "ball field."
A Tale of "TWO of Everything"
Obviously interest in the movie and in the location lead to restoring the field to a complete ball field. Owners of the house had people showing up as depicted in the movie. The now "incomplete" field was hard to explain. And, finally, it became clear this was a tourist attraction and a profitable one at that.
Disagreements continue to this day between the owners. This is why there are TWO entrances to the field. TWO separate gift shops. TWO separate web sites. TWO views about what's right for the site.
"Left and Center" is run by a management company and they sponsor the "Ghost Players" team that makes a few scheduled games at the field. They added a maze next to the ball field in the corn field as an added attraction
"The Movie Site," covering the "Home, Right Field and the House," is still owned (and occupied) by the original family. They added a fence and retaining wall around their home to reduce the number of unexpected visitors coming at all hours and times of the year.