TG & SB Take the batters's boxes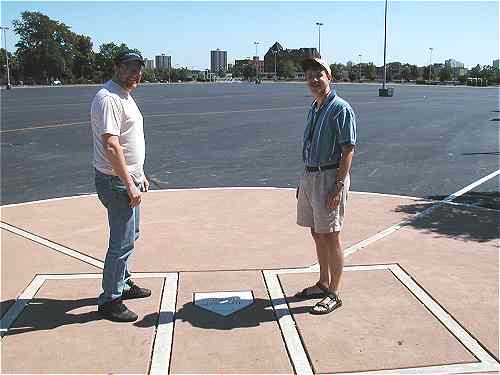 Trumpet Guy & Silent Bob at the site of Old Comiskey
Stage #1 of the Tour
The actual start of the tour was at the hotel in Merrilville. An "early" --early for ballplayers and fans-- rise and quick breakfast start was required.
The first part of the trip was north in I-65 to the I-90 tollway west to the Illinois border.
Toll: $0.50

Indiana Tollway booth at "Mile 0"
The next part was over the "Chicago Skyway" bridge to north I-94 (aka The Dan Ryan Expressway).
Toll: $2.00

Crossing bridge into Chicago
Following the signs for US Cellular Field (and the 2003 All Star Game) we exited on to 31st, turned left (west). Ignoring the stadium that started the "hold the city hostage" approach to building ballparks we turned right and found a discrete place to park.
Comiskey Park 1910-1990 - Home Plate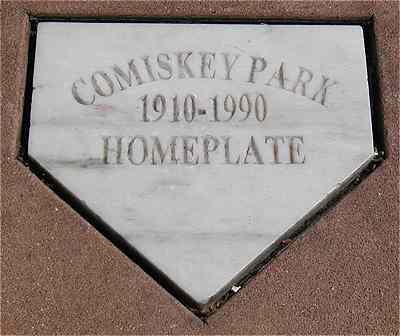 Commemorative marble home plate of "Old Comiskey"
The first "real stop" of the tour was at the site of Old Comiskey Park, home of the Chicago White Sox. The site is now a parking lot for the new stadium (across the street) that replaced it. The memory is kept alive with a marble home plate in the location of the original. The batter's boxes are recreated in concrete and the first and third base lines are painted on the asphalt.
The "New Comiskey" was open and selling White Sox tickets. Their souvenir stand might have been open. but we weren't interested in that stadium and there wasn't anything else around to see.
Attending a White Sox Game
The White Sox rarely sell out and the New Comiskey (aka US Cellular Field) is huge. Parking is plentiful in the area, but a bit expensive. Prices drop slightly as you drive further from the stadium. It is on the "Southside of Chicago" but the area around the ballpark is safe for fans.
As with going to Wrigley, taking the "L" may be one of the best ideas since the stop is on 35st St. and convenient to the ballpark. Since the fares are low, you could find a park and ride lot anywhere in the Chicago area and pay a low $1.75 fare (each way, free transfers anywhere on the system) and get there.
The stadium is a little sterile compared to those that came after (Camden Yards). The exploding scoreboard and pinwheels were recreated from the original Comiskey. What is different is that the stadium faces southeast towards Gary, not northeast to the Loop. As a result for day games you may want to sit on the first base side with the visitors or bring lots of sunscreen.