TG & SB Take the batters's boxes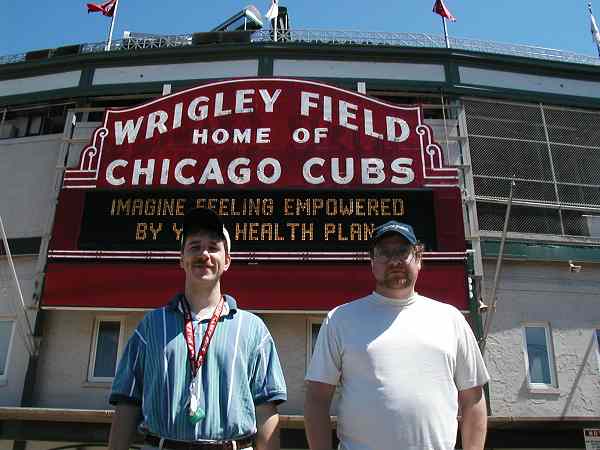 Trumpet Guy & Silent Bob in front of the "Friendly Confines"
Stage #2 of the Tour
Leaving Comiskey we headed, or tried to head to Lake Shore Drive, known as the "LSD" to locals. After some aimless meandering we made it on. To save time we should have got back on I-94 north and taken I-55 to Lake Michigan and the LSD.
Heading north on Lake Shore Drive was a pleasant trip along the lake and gave one of the best views of the Chicago skyline. The drive takes you past Soldier Field, where it looks like a spaceship landed in the venerable old football stadium. It also takes you past Grant Park, crosses the Chicago River and by Navy Pier and it's huge ferris wheel. Tolls: None.
A few miles later, after spotting the signs for "Wrigley Field" we were headed on West Addison. In no time at all we drove under the Wrigleyville El station and were next to "The Friendly Confines." A short drive around the block --which Wrigley fills, we were able to park for free on Sheffield Ave.
Harry Caray & Wrigleyville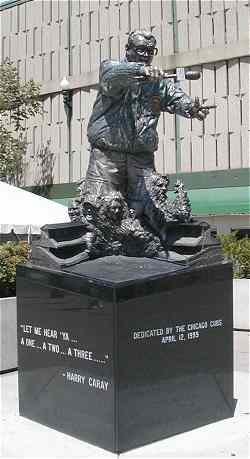 Harry Caray statue outside Wrigley Field
Getting out of the car on Sheffield Ave. we headed south back to Addison. Along Addison St. are many well known souvenir shops, bars and restaurants. Stopping in one shop we bought some souvenirs and walked past the main entrance. Had we planned ahead and had more time, we might have investigated taking a tour, but we were hungry.
Walking up to Waveland Ave. we saw the tiny Wrigleyville Fire Station and walked along the street made famous by so many home runs. Since there was no game there were no crowds and it was peaceful. We could also see one of the most famous manual scoreboards in the major leagues.
We headed to Murphy's Bleachers (3655 N. Sheffield, 773.281.3685) directly across the street from the bleacher bum's entrance to the ballpark. A couple Chicago dogs and beers later we we're off. But first we picked up copies of the "The Heckler" to read in the car for laughs.
Going to a Cubs Game
Wrigley Field and Cubs games are a "must" for any baseball fan. As one of the remaining original "temples of baseball" it drips with history and character.
With the resurgence of the Cubs and renewed appreciation of the "Friendly Confines" tickets can be scare. Ordering ahead can be a necessity unless you're willing to try SRO, scalpers or ticket agencies. Group outings may want to try the many "rooftop" sections across Sheffield (right field) and Waveland Ave.
Getting to Wrigleyville
We took Lake Shore Drive for a good reason. it's the fastest way to get to Wrigley by car. It also helped that we were coming up from the south and there was no game. If there had been, we might have had to skip it.
If you plan to go a game at Wrigley take the "L," Skokie Express, or other shuttle option. Addison St. is not a big street and miles from the (other nearby) freeway. Even without a game it takes a long time to get to the ballpark.
Chicago Loop Suggestions
Though we didn't stop, there are lots of things to do in downtown Chicago, also known as "the Loop."
First suggestion is to park in the underground public lots beneath Grant Park. These are affordable, safe and convenient to most everything downtown.
Sites to see:
Sears and/or John Hancock Tower
Chicago Institute of Art
The "Miracle Mile" for shopping
Navy Pier
Museum of Science and Industry (not near loop)
And much more...