TG & SB back to the Steel Yard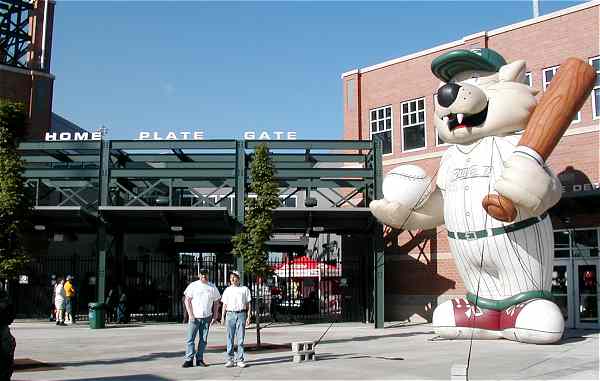 Silent Bob & Trumpet Guy dwarfed by the inflatable Rusty the RailCat
Stage #5 of the Tour
With a minor fear of hitting heavy traffic it was time to head back towards Gary and the evening's game. Leaving Joliet we got onto I-80 east headed for Indiana. I-80 merges temporarily with the Tri-State Tollway before changing to I-94 (freeway) again. --Toll $0.30.
We were pleasantly surprised by making excellent time and decided to freshen up back at the hotel before going to the ballpark. Refreshed, we headed up I-65 and went back to Bennigan's for another excellent pre-game meal. We also gave one of the waitresses a Flyers magnetic schedule we picked up in Schaumburg since she told us the night before she wanted one.
We're so glad we had this time together...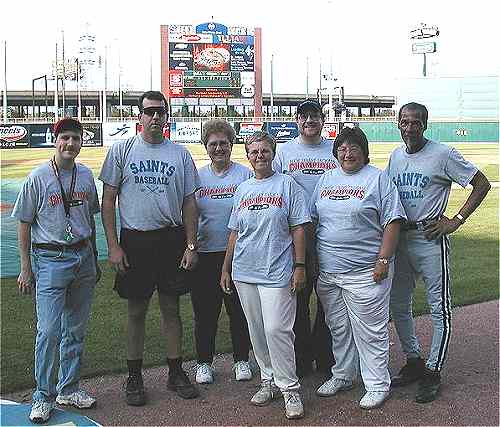 TG, Saints (former Jackals) Manager George Tsamis, the "Jersey Girls" and SB, and Jackie Hernandez
With TG, SB and the JG heading back home early the next morning it was time to savor the last of our time together. That evening we watched the Saints beat the RailCats 5-0 on a wonderful warm evening at the Steel Yard.
Though we completed the "Triangle Tour" the Jersey Girls spent a leisurely day shopping and resting around the pool. Whatever the case, everyone had a great time.