TG & SB at the Cross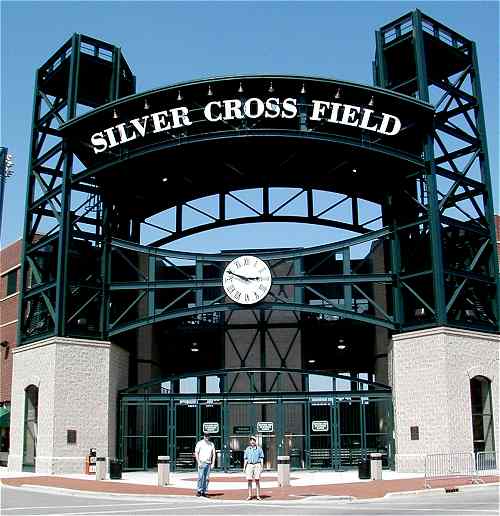 Trumpet Guy & Silent Bob in front of the classic entrance to Silver Cross Field
Stage #4 of the Tour
The trip to Joliet from Schaumburg is almost always a snap. Down I-290 then onto the I-355 "North South Tollway." --Toll: $1.00 (two $0.50 toll booths).
Turning on to I-55 we took the very first exit to Joliet Rd. Joliet Rd. is significant since it is part of Historic Route 66. We could have taken it all the way into Joliet but: 1. There was road construction, 2. It is on the wrong (west) side of the Illinois River from the ballpark, and 3. it doesn't take you past old Joliet State Penitentiary made famous in the movie The Blues Brothers.
Instead we took Highway 7 toward Lockport, and then south in Highway 171 to Joliet. This route ensured that we passed the old walls of the prison and ended only blocks from the ballpark. After just glimpsing the Joliet Senior High, we drove down Clinton St. and down Mayor Art Schultz Drive to park.
nlfan.com Directions to Silver Cross Field
Looking around the Cross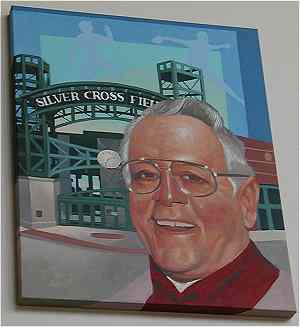 Painting of Joliet Mayor Schultz in JackHammers Shop
The JackHammers Pro Shop was open and we looked around. The Pro Shop also doubles as the Joliet Sports Hall of Fame. On the walls are paintings of the famous Joliet natives who succeeded in the world of sports. Possibly more important to Northern League fans is the one of Mayor Art Schultz who is the man responsible for the ballpark being here in the first place.
Looking at the field itself is a little difficult since it's at ground level and the stadium, berms and fences restrict the view. What you can do, if the in the Pro Shop, is climb the spiral stair case and look through the glass door and windows which give you a very good view of the field and stadium.
We were now ready for our final stop. A return to The Steel Yard.