TG & SB Take the mound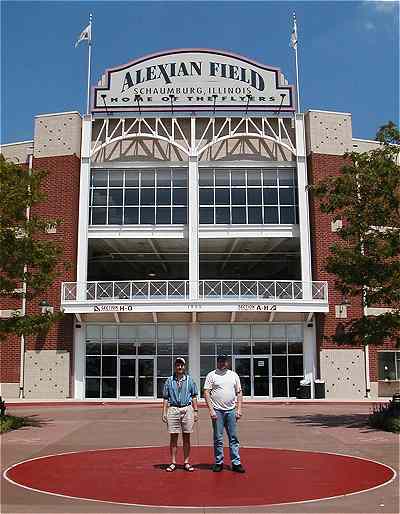 Trumpet Guy & Silent Bob "on the pitcher's mound" in front of Alexian Field
Stage #3 of the Tour
Leaving behind the "friendly confines" we headed west on Addison St. for north I-90/94 --aka The Kennedy Expressway. We were now heading away from the lake and the loop towards O'Hare International and Schaumburg.
To save a little time and money on the tollway, we took the "back way" on the south side of the airport on Irving Park Rd. then Thorndale Ave. This wasn't quite as efficient as it should have been since it had been several years since the webmaster had made this particular route. It might have been simpler to stay on the Kennedy to I-290 then headed south to the Elgin-O'Hare Expressway. Nonetheless, we noted the Flyer's water tower and drove into the "kiss 'n' ride" lot right next to Alexian Field.
nlfan.com Alexian Field Directions
Sneaking a Peek at the Field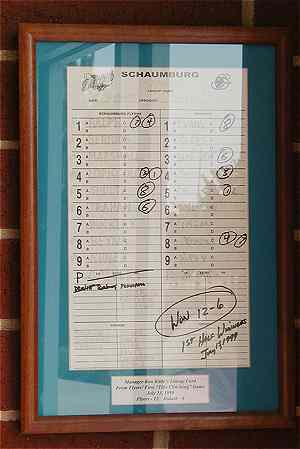 Scorecard from Flyer's 1999 First Half Championship
Though the Flyers were on the road, the front office was still open as was the souvenir shop --though you had to have someone from the office open it up. We asked and were allowed to enter the stadium so we could see the second ballpark in the Chicago area to have the same dimensions as Wrigley Field.
With nothing else much to see we headed to our next destination
Sneaking a Peek when the stadium is not open
Even if the park and offices are closed you can still (legally) get a quick look at the ballpark. Climb the stairs to either the first or third base gates (the first base side is easiest). The gate fences are quite open and you can see the most of the field and concourses. It may be worth checking if the Schaumburg Club is open (it too is on the first base side) for a drink or meal.