Spare Time: What to do between games in Edmonton...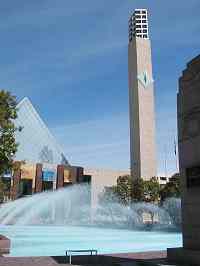 Fountains and clock tower at City Hall
Getting Around Edmonton: Understanding the street numbers
One of the first things to understand about the City of Edmonton is the street system. Where most cities have their "first streets" in the heart of downtown, Edmonton has its city center at 100. Avenues run east/west and streets go north/south.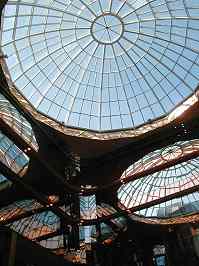 Domes in The Bay
(Edmonton City Centre mall)
Well, almost. The major east/west street in Edmonton is Jasper Ave. (equivalent to 101 Ave. NW). It intersects 100th St. near the river bluff which isn't really the "center" of downtown. City Hall and the Edmonton Center Mall (also downtown) are just blocks away.
Restaurants
Though there's not much to choose from around the ballpark Edmonton has a lot to offer in restaurants. There are many choices downtown but you may find a more interesting selection along Jasper Ave. One choice for excellent, affordable cuisine is Normands (11639 A Jasper Ave, 780.483.2600) or its sister restaurant The Copper Pot (1-1, 9707 110 Street, 780.452.7800) which is actually near the Legislature Building and north end of street car run (see below).