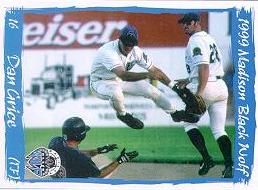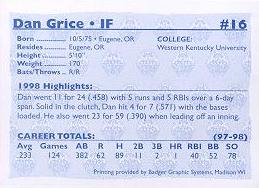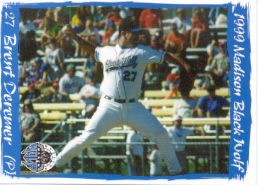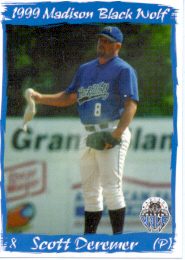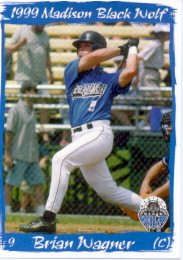 Details

26 cards total
Produced by players for each other

Set includes
Approximately 100 card sheets were printed. They were paid for by the players for themselves (since the team did not produce a set). Players received around 70 of their own card and ONLY one full team set. Only about 30 "full sets" were produced. After each player received their team set that left only a few (full sets) that may have been sold to lucky fans.
Complete Card/Player list:
#2 Donnie Harris
#6 Ila Borders
#7 Eric McMaster
#8 Scott Deremer
#9 Brian Wagner
#10 Jason Imrisek
#11 Donnie Taylor
#12 Chris Vasquez
#13 Clay Roup
#14 Danny Lewis
#16 Dan Grice
#17 Joe Stutz
#19 Peter Moore
#20 Jermaine Swinton
#21 Bronson Heflin
#22 Jesus Campos
#23 Terry Steppke
#24 "Dirty" Al Gallagher
#26 Stanley Evans (coach)
#27 Brent Deremer
#28 Jason Copeland
#29 Ken Folkers
#33 Chad Roper
#44 Dave Meyer
Justin Byers (Trainer)
Team Picture
Webmaster does not have full set
If you have this SCARCE Black Wolf card set or individual cards from it to trade or sell please .