"The Wade"
A Classic!!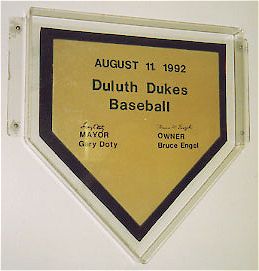 Plaque commemorating the return of
Northern League baseball to the Wade
The Wade, for the baseball fan, is worth the trip itself. This is the "Real Wrigley Field" of the Northern League (though the new Schaumburg stadium will have the exact dimensions of the real thing).
An original Northern League park with huge brick walls surrounding the entire field --381,000 of them from Grand Avenue when it was torn up in 1940. It's named after Frank Wade who was instrumental in bringing baseball to Duluth during the depression with 1933 Northern League. In 2001 the Wade celebrates its 60th Anniversary and ninth season in the new Northern League.
This is the "Field of Dreams" (the movie used to be quoted in the third base entrance) in this classic baseball park. Each year a few new improvements (like paving the parking lot) have made the park more friendly. For '99 improvements include a new wood deck on the third base side and adding sod over the formerly dirt walkways to home plate.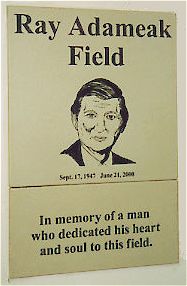 The playing field at the Wade was
dedicated to the memory of
Ray Adameak
after his death in 2001
The seating around home plate is wonderfully intimate and nearly level with the ground (just one big step up). Just you and the concrete reinforcement wire to protect you from foul balls (netting is directly behind home plate they used to squeeze through). You can hear pitches and hits like nowhere else in the league. Foul balls hit roof and roll away to the waiting kids.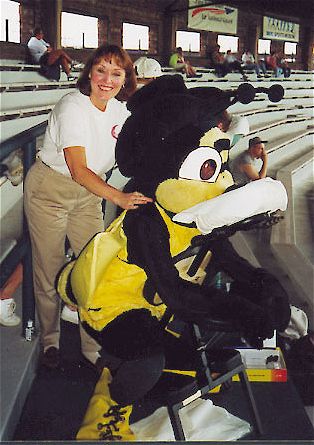 A visiting "bee" gets a massage in the stands
This park survived the past hard times in Duluth partly because of the misfortune of the local iron ore business: there was not enough money to tear it down. It is now wonderfully restored and a credit to the league and the town. In short, go there and see your team play!
MLB Players who played at the Wade during their minor league career include:
Roger Maris
Don Larson
Hank Aaron
Willie Stargell
Jim Palmer
Orlando Cepeda
Lou Brock
Gaylord Perry
Duluth's Own Denny McClain