METRA Commuter Rail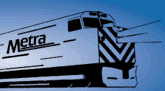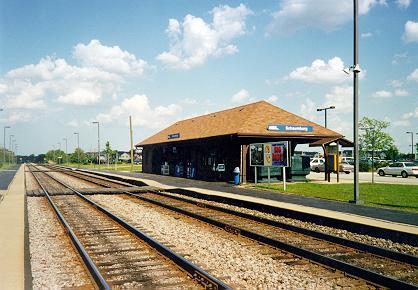 Schaumburg METRA Station (Inaugural Opening Day 1999)
Looking East towards "the Loop"
METRA commuter rail ALSO has easy access to the park. It's right at the Schaumburg stop on the MD-W Line (Milwaukee District-West Line; end station: Elgin-Big Timber) connecting directly to Union Station in downtown Chicago. This option could be very convenient for day trips into the city or just making it out to the game from downtown if you don't have a car.
There are several convenient arrival/departure times the train is at the stadium/station. The "final departure," usually around 10:30 PM so locals "from the loop" (or just those staying downtown without a car) can make it safely "back home." If traveling alone, or catching other trains downtown you may want to leave on an earlier train since a 10:30 train won't arrive at Union Station until well after 11:00PM.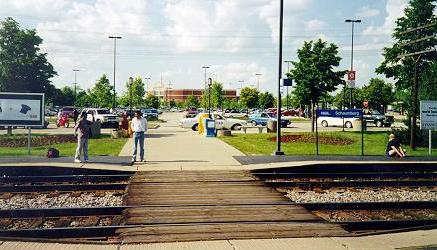 The easy walk to the stadium from the station
METRA Timetable Planning
During the week METRA trains stop once per hour, once every other hour on weekends, going both directions. This means you may need to plan if you're going to arrive early (possibly VERY early on a weekend) or "a little late." The same is true for departures. The trip from downtown takes about one hour.
Fares (2008):
Adult, One-way from Union Station to Schaumburg: $4.75 (MD-W zone pair "AF")
METRA offers $5 "All you can ride" weekend passes and other deals for those without a car. Though more expensive than the $1.75 (one way any distance, $0.25 transfers) on the "L" (CTA), it stops right at the park (CTA's blue line ends at O'Hare and the taxi fare would add considerably more).