Parking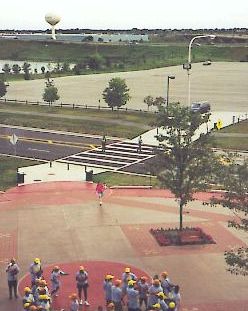 West Lot, Crosswalk and Entrance Concourse (2001)
Free and Ample, but can be a "slow exit"
Parking is free and directed by Schaumburg's finest before and after the game. A new 1000 car lot was built on the site, just west of the stadium. Though there are two entrances to this lot the north one (closer to the expressway) is the one used during games.
When that lot fills there are 1,300 more in the METRA commuter rail ("Kiss and Ride") lot to the south of the park. These are marked spots and arriving "too early" may lead to towing if the spot is reserved. But since this empties around after the evening commute at 6:00 PM there is always parking for everyone except (possibly) for the rare weekday game.
As game time approaches there are police directing people and traffic. Pedestrian traffic is directed toward the center of the lot and the crosswalk to the front concourse of the stadium. Though the third base entrance has a an inviting stairway to/from the north parking lot entrance, this route is roped off to speed traffic into the lot.
Traffic Jams
Be aware that there are only two lanes of traffic into the parking lot(s). This can back traffic up for quite a ways if you arrive late. If you don't want to be late, make an effort to arrive a little earlier than you might otherwise to make it through the congestion.

Parking Lot and Inbound Traffic (Opening Day 1999)
This also affects leaving the game too! Keep in mind this simple fact: 7,000 fans using only TWO lanes. Once past the traffic light south of the expressway you'll probably get away fast, but you may to be trapped with the Flyer faithful if the police waving the crowds is overworked.
They must have their reasons, but expect to be sent through the west lot even if it is full. ALL game traffic is directed through the new west lot, even if they only have room in the METRA lot south of the stadium. If confuses me why they send everybody that way. Maybe it's to try to reduce the congestion on Springinsguth.