Spare Time: What to do between games in Schaumburg...
Restaurants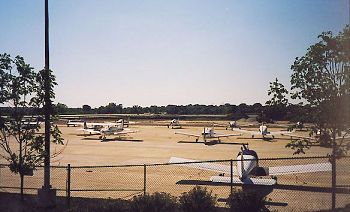 View from Schaumburg Regional Airport home of Pilot Petes
Pilot Pete's (905 West Irving Park Rd, 847.891.5100) at the Schaumburg Regional Airport on Irving Park Road is just blocks away and serves food and beverages until 11PM (Mon-Sat. 9PM Sun.)
If the game runs late, there are several restaurants around the Woodfield Mall with later hours such as the Ram Brewpub (near Ikea open to 3AM some nights).
Sites & Attractions
The main attraction of Schaumburg for years is Woodfield Mall. At one time this was the largest mall in America. Other suggestions "in town" include the Schaumburg Prairie Center for the Arts and some of the best public parks in the country.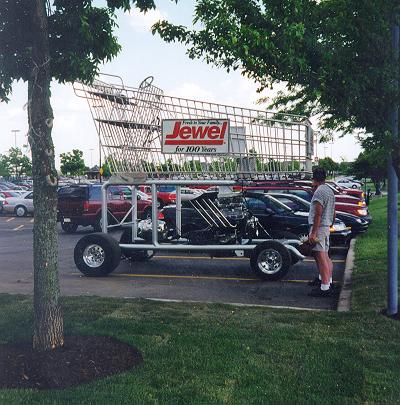 Power Shopping in Schaumburg (Opening Night 1999)
Otherwise my memories of going (specifically) to Schaumburg go back to '83 and '84 and attending TRS-80 Color Computer conventions. I hope there's more to do now "in Schaumburg" as I remember it as being "terribly suburban" with no city center nor much more than Woodfield Mall and some other shopping. Though the area around the mall has considerably more available, it remains primarily residential and several of the smaller shopping areas away from the mall zone are empty.
Head for "The Loop..."
You're less than an hour away from all of Chicago from Schaumburg. Depending on the start time it may be possible to double up and catch a Cubbies game at Wrigley and still make it back in time to see the Flyers. Having made the trip in '97, I highly recommend it.
If time permits, the "L" blue line connects the Loop (downtown Chicago) to O'Hare and cost only $1.50 --much cheaper than parking anywhere downtown. Free transfers can even take you to Wrigleyville and the Cubs or to the "south side" to see the White Sox. Allow an hour for the trip each way. For more about seeing Chicago area ballparks see the "Homeplate Tour."